01. The Focus
Create Outstanding, Performance-driven Creatives
I have had to participate in the creative development of data-driven materials from concept to execution. I worked with channel managers to develop and design content to support campaigns with an underlying link to performance and business growth.
We are continually working on cutting customer acquisition cost by 10% and raising customer retention to 20%. 
App campaigns & creative optimisation of the App stores as resulted in a positive increase of 4% install rate increase.
I collaborate well with the team and support colleagues by explaining technical aspects of projects to non-technical teams.
02. The Process
I ensure that my creative process consistently involves coordinating creative testing/experiments.
This involved owning and managing a structured approach to design files and master templates to ensure scalable operations i.e up to date and easy for others in the team to pick up and recreate or provide support.
Responsibilities:
Implementing app store screenshots creative (6 languages) across the iOS & Android platform based on A/B test carried out.
Presenting ideas, managing creative tests and a variety of ad-hoc campaigns. Managing creative optimisations from beginning to end(scheduling, designing, testing, reporting)
Produce performance-driven creative for the app stores and for app campaigns(Google App campaigns & Apple Search Ads)
Running qualitative and quantitative tests to assess the performance of App Store creative(ASO).
Experience in brand creation and implementation, bringing brands to life on digital platforms.
03. Immersive and Engaging Creative Ads
I was tasked with designing creative ads to people across multiple countries, languages, and cultures with a need to send money abroad.
This involved collaborating with multiple capabilities (Product, Creative, Performance etc.)
DYNAMIC CREATIVE STRATEGY – WEB/MOBILE
This involved setting up dynamic feed with rules and signals, creating and assigning variants, identifying responsive data-driven formats, and optimising data-driven creative.
I leveraged the custom templates in Google Web Designer to create a variety of immersive and engaging formats which meant we served the most relevant ads.
CREATIVE PROCESS:
The creative process begins with empathy for the people you're designing a solution or advertisement.
Trust is clearly crucial in banking and finance. The challenge was to apply DCO to optimise the right tone that would engender trust and create leads/action. We designed DCO to guide the communication to best suit the potential customers preference for how to communicate with us. 
The personal experience of each consumer, through the entire web experience, was then designed to meet their needs and preferences. This meant using data to change individual creative elements such as real time exchange rate.
BRIEF
– Drive conversions
– Speak to each audience in a tailored manner
– Allow for easy updates of offers, imagery and copy
APPROACH
– Guide users – along the path to purchase – with aligned creatives at every step i.e Awareness, Consideration, Action & Loyalty
– We chose to build dynamic creatives in order to allow us to show different messaging and imagery to each audience group.
– We were able to produce a set of creatives that were effective at reach their target audience
– In addition we tested colour schemes, CTA and ad copy across our target audiences to optimise the creatives and drive performance
PLATFORMS/TOOLS
Display & Video 360/Campaign Manager 360 + Studio + Google Web Designer + Other Creative Management Platform
OUTCOME
– CTR increased by 71% when compared to previous creatives.
– Increased creative development efficiency: Developed one creative shell per ad size and use our tools to swap out the content that populates the ad on the fly.
– Increased trafficking efficiency: Trafficked a single creative ID per ad size, instead of a creative for each unique creative iteration.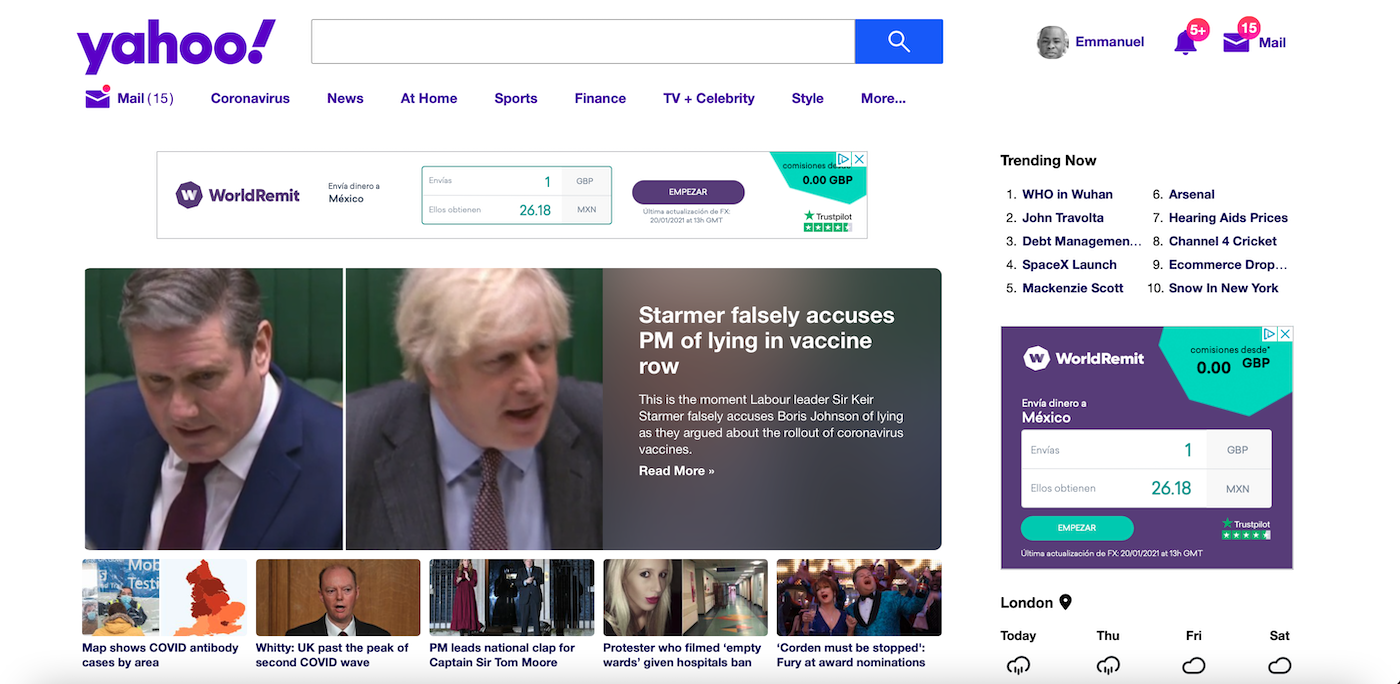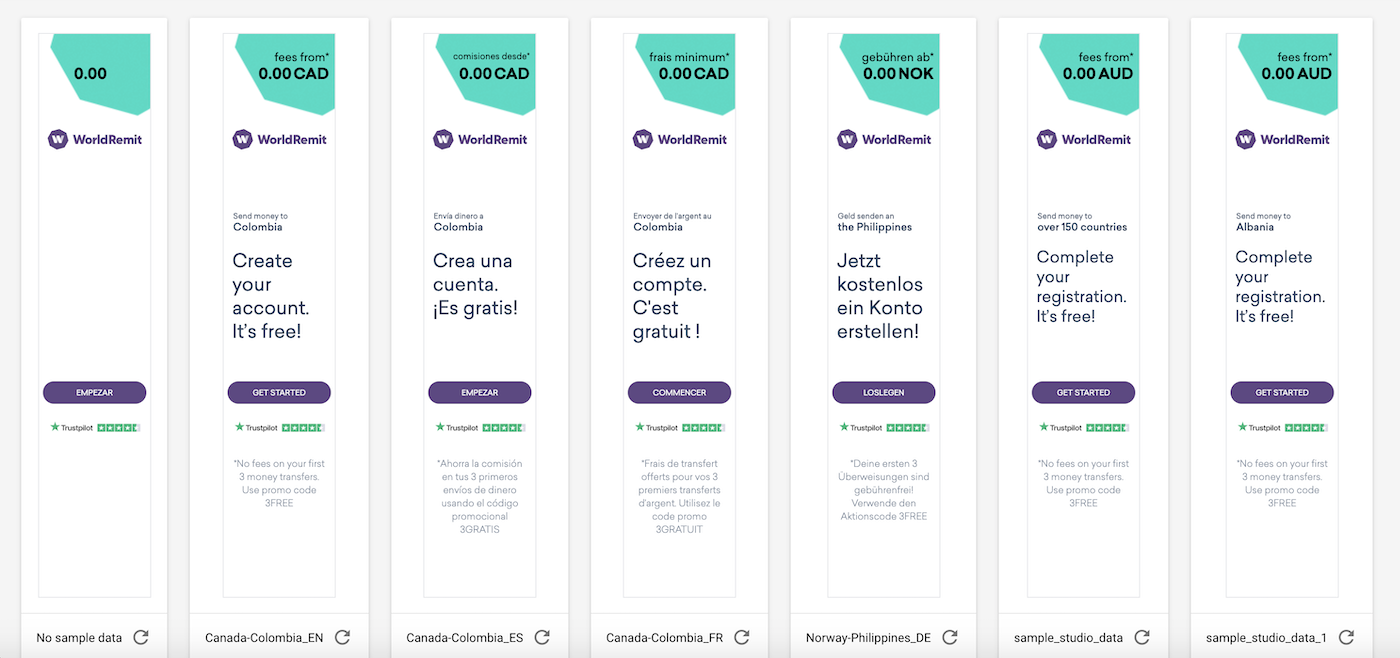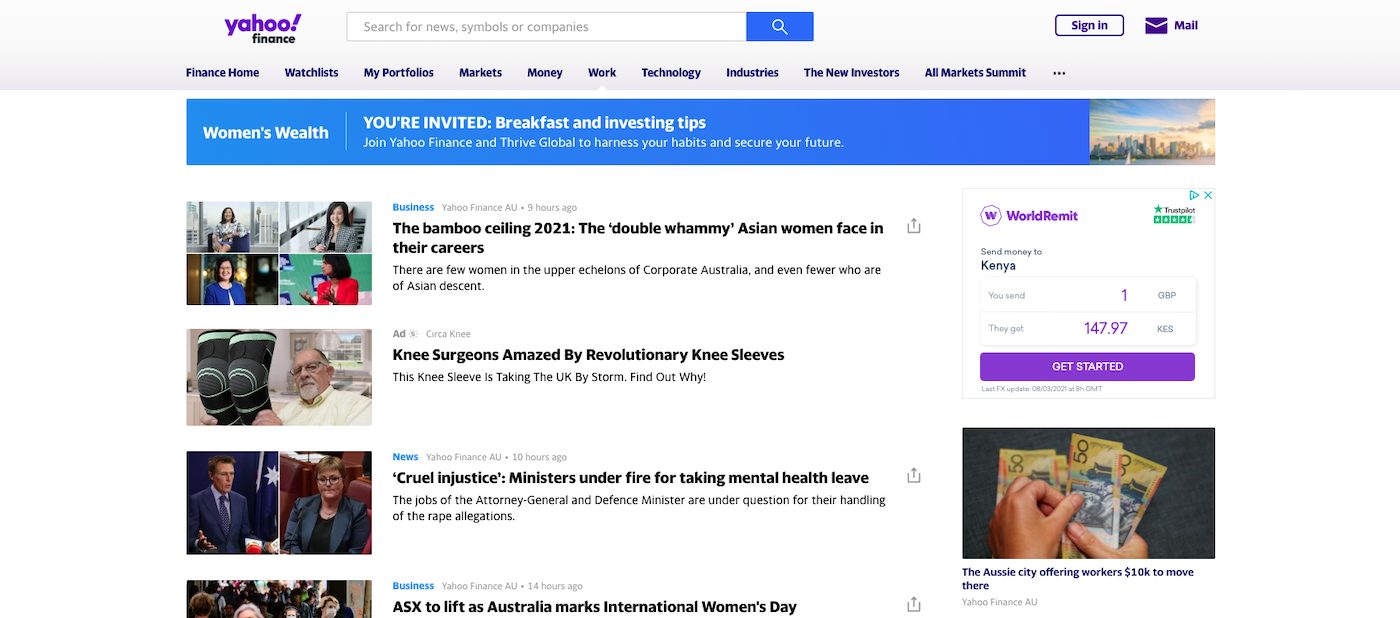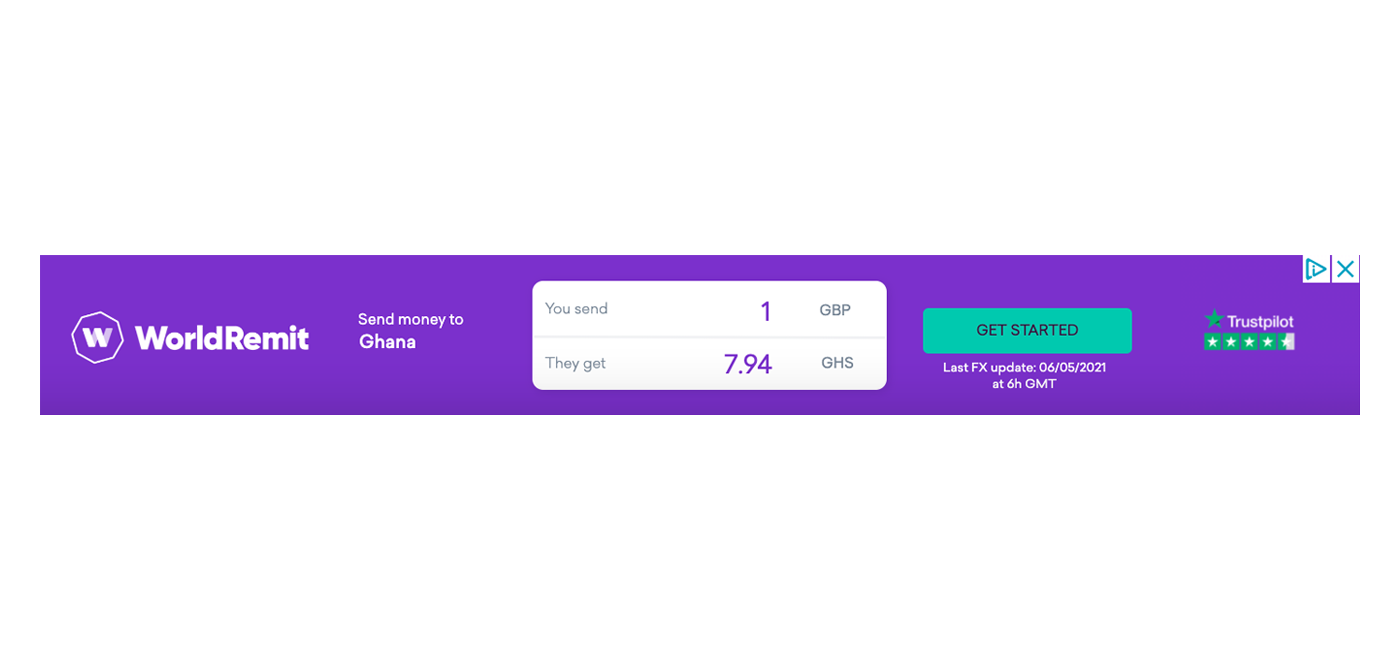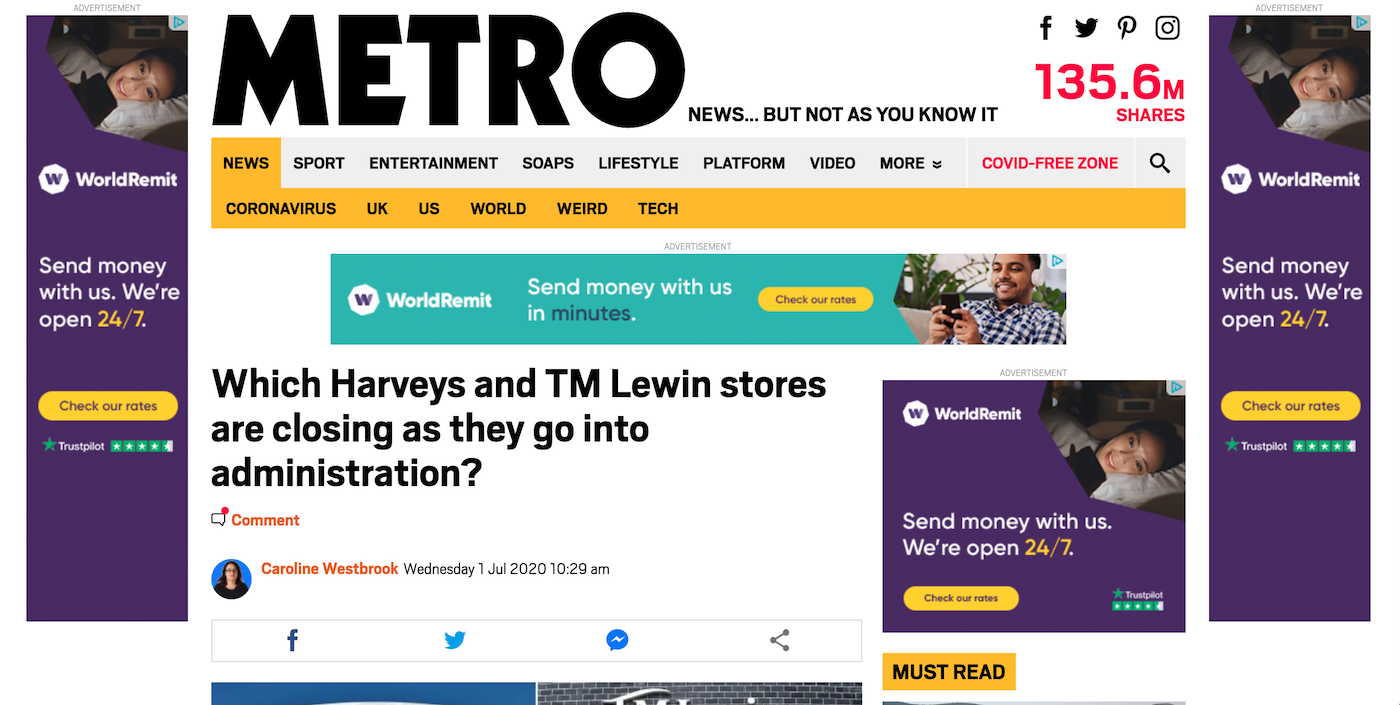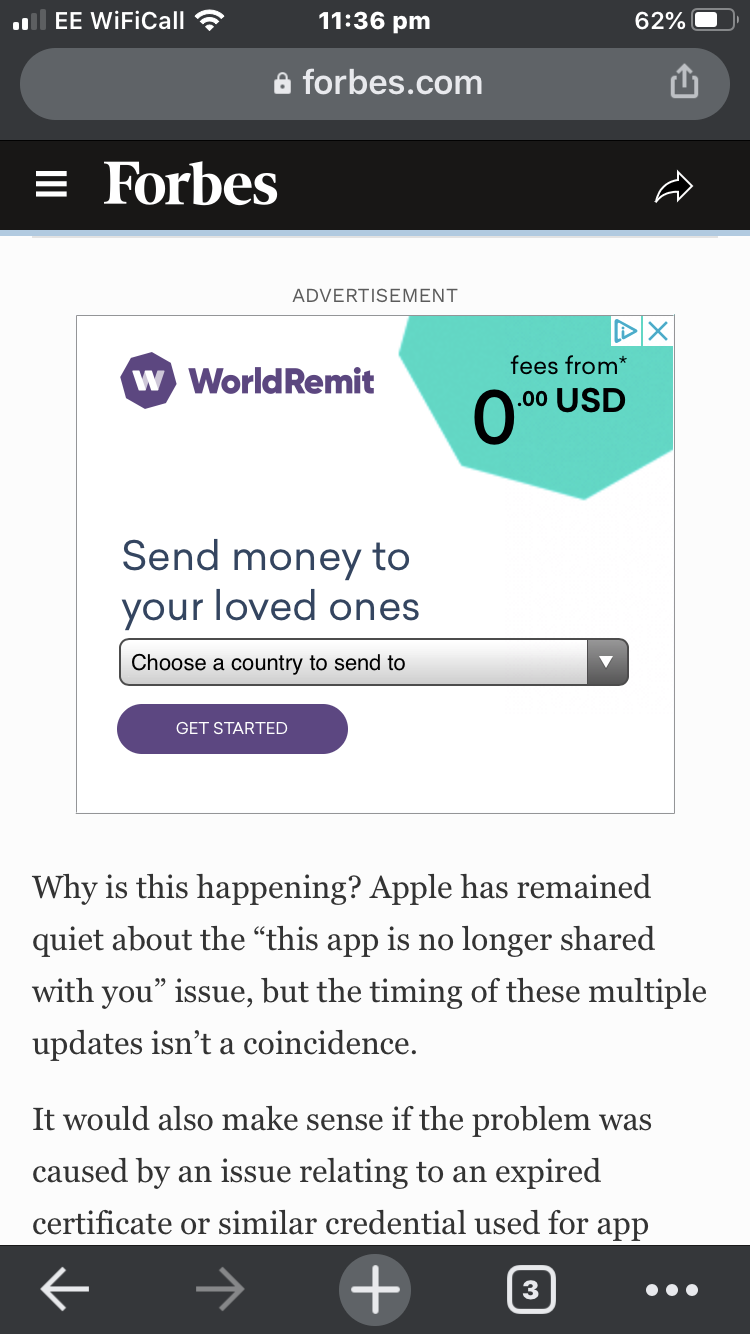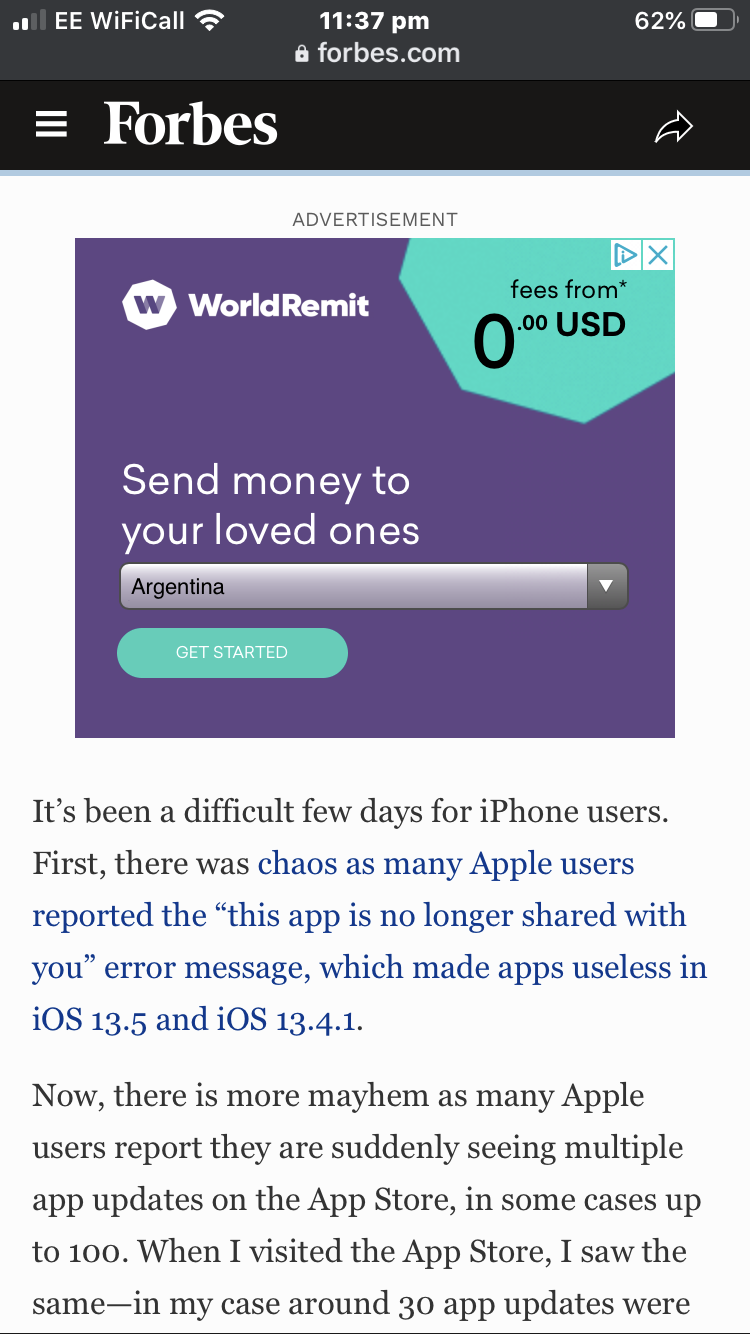 04. Mobile Experience – App
It was important to have a rich understanding of users and their most common use needs, questions and concerns.
Google Play Store A/B Experiment:
Hypothesis: Increasing the copy font size of the screenshots (see below) will improve content readability and entice users to read the full set of screenshots and download app.
Approach: We launched a new experiment on the Google Play Store listing. We tested a new background and layout of the screenshots based on the hypothesis that we had too many distracting patterns on our current design.
Results: The completed experiment explored alternative screenshots with larger headlines (see below) on the Google Play Store page. The winner increased app installs by 3% (on average) and based on this increase, it was estimated that this would generate an additional 37,000 installs per year.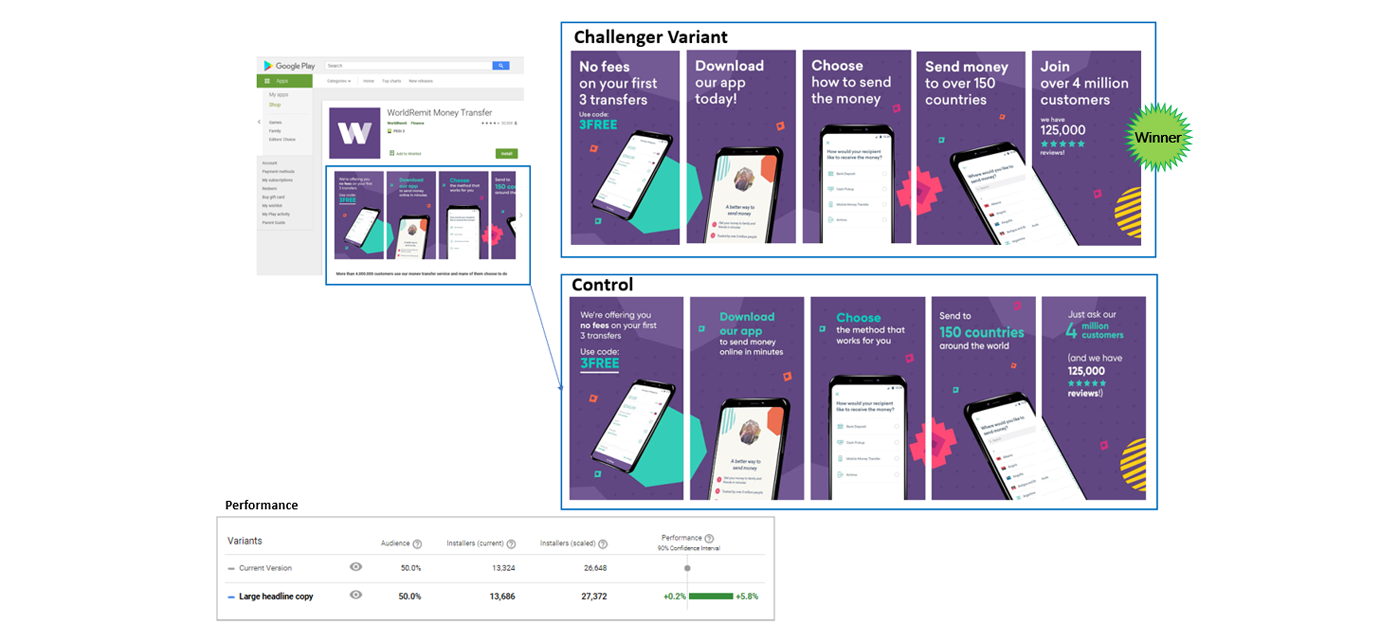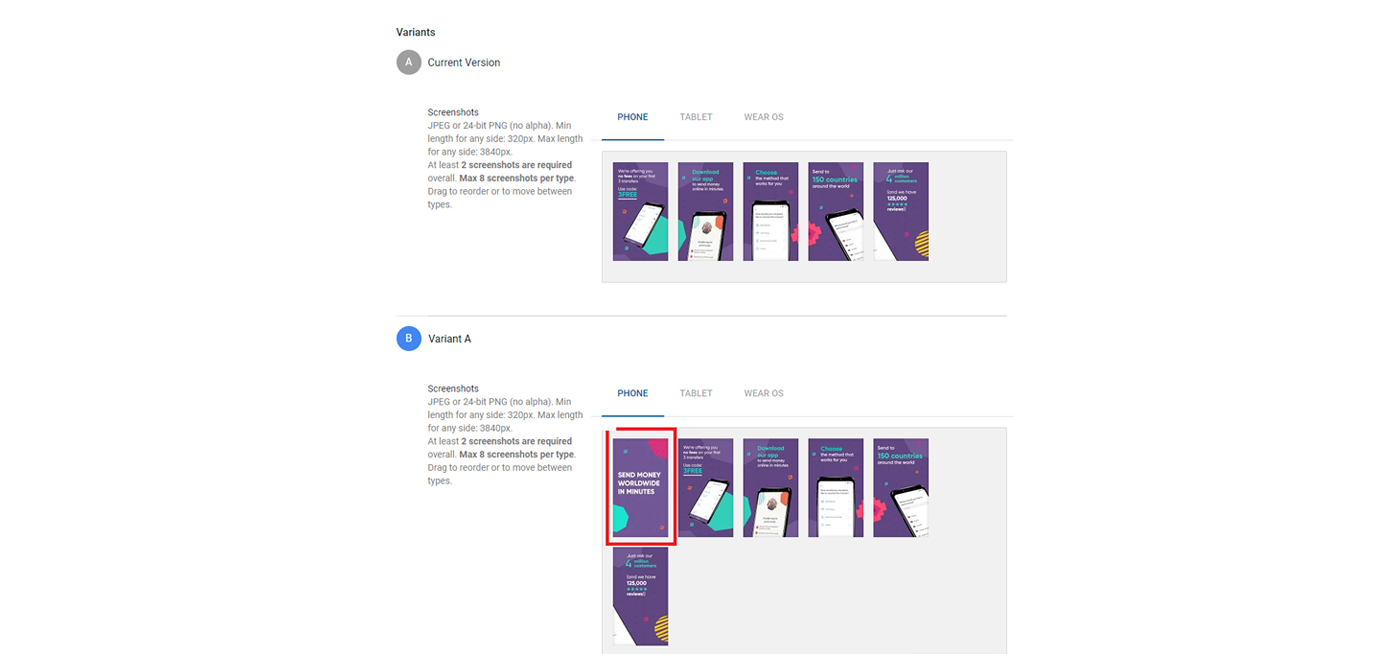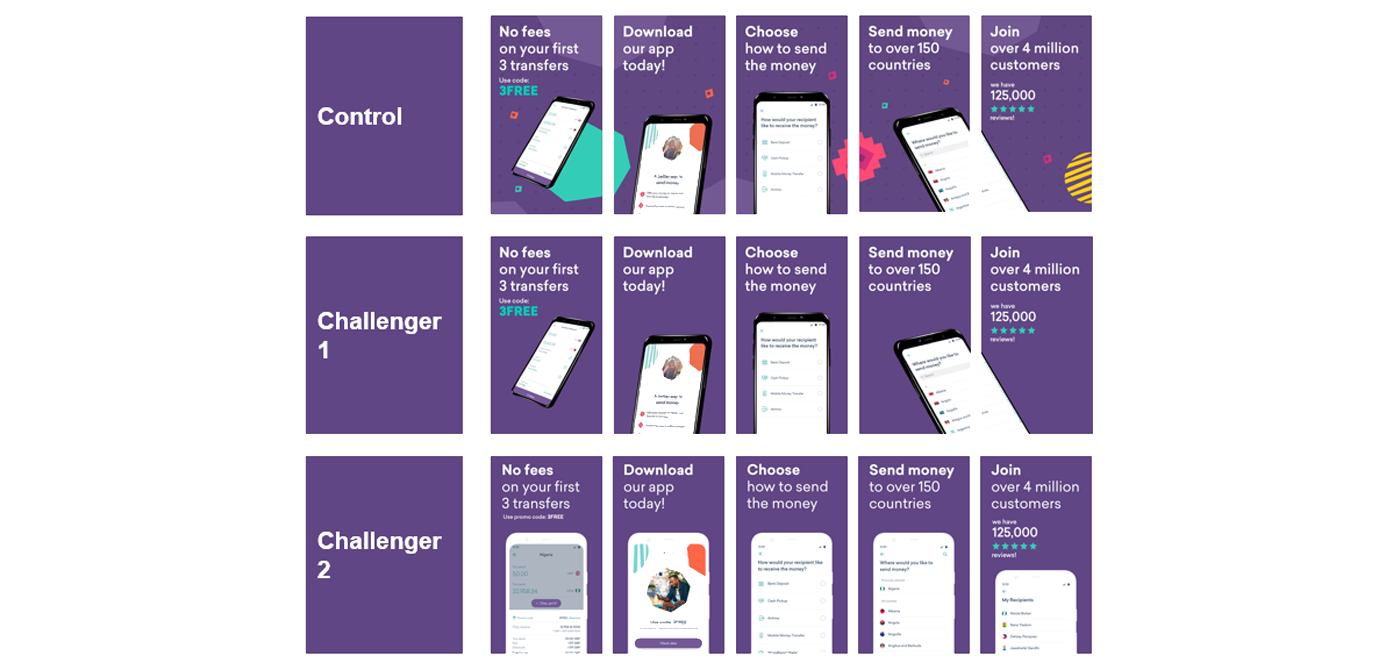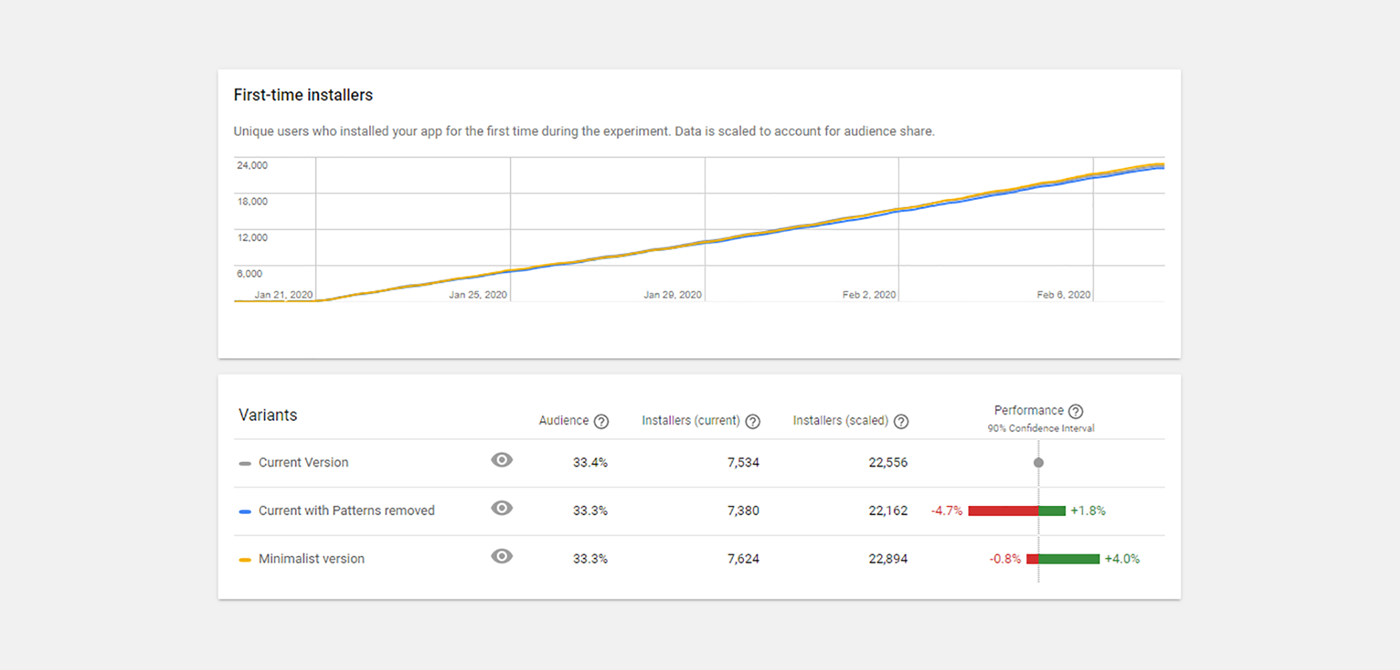 I delivered advertising solutions across mobile, display, video and social media.
RESPONSIBILITIES:
Produced attention-grabbing, performance-led creative to drive conversion across multiple touch points (Social, Display, App Stores).
Produced eye-catching, conversion-led creative for the app stores.
Presented ideas to the team and ran quantitative and qualitative tests to assess performance.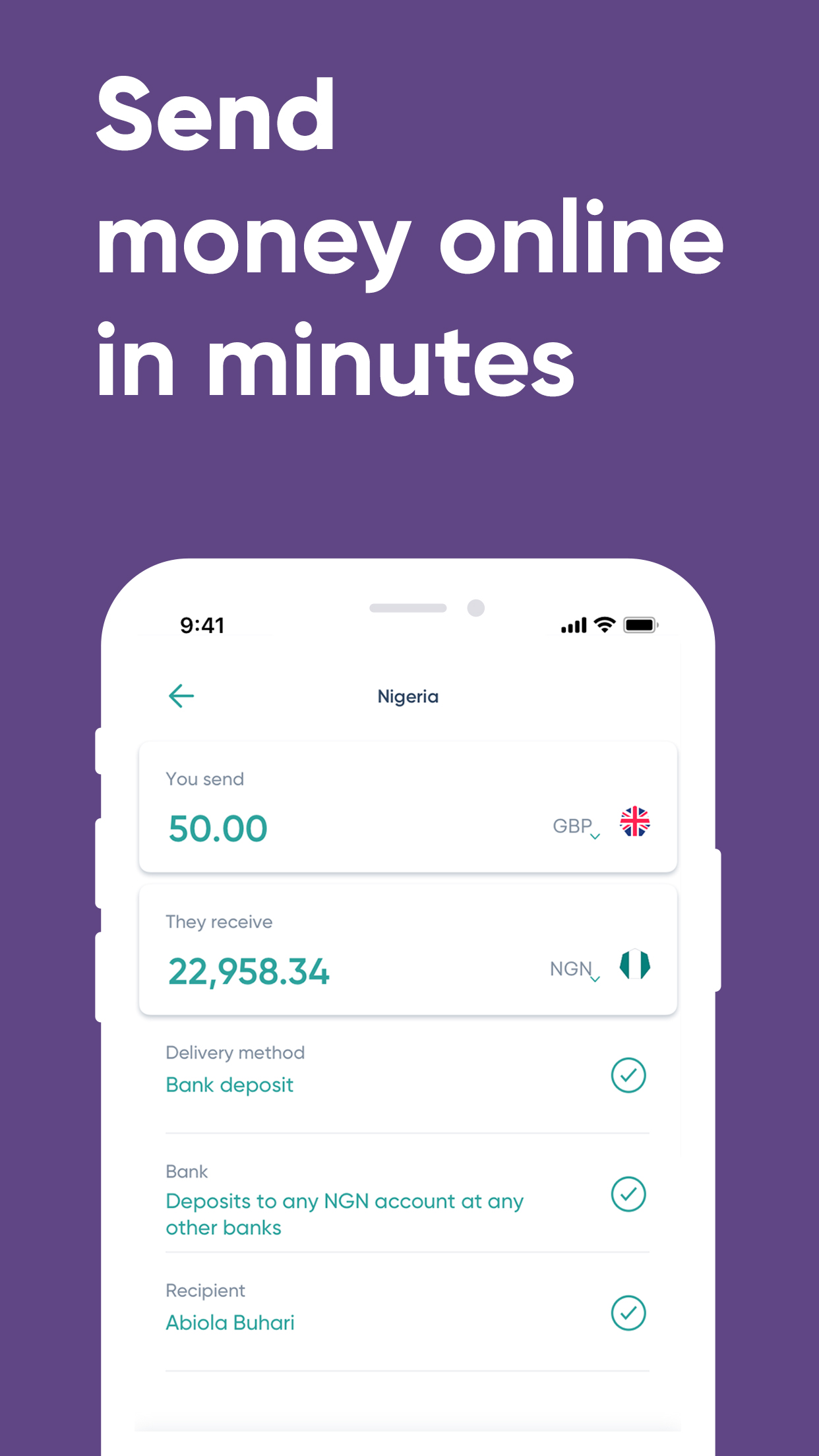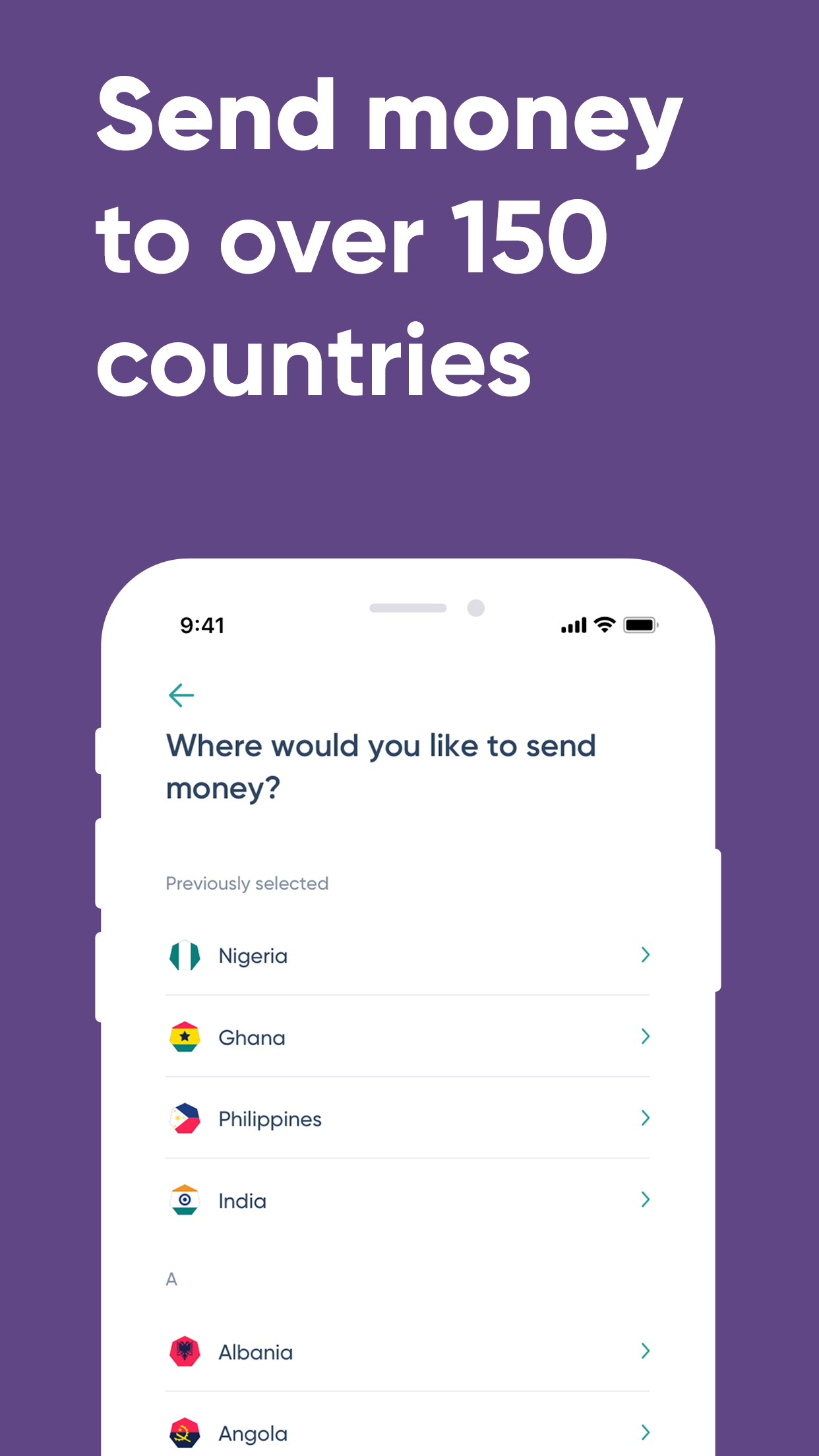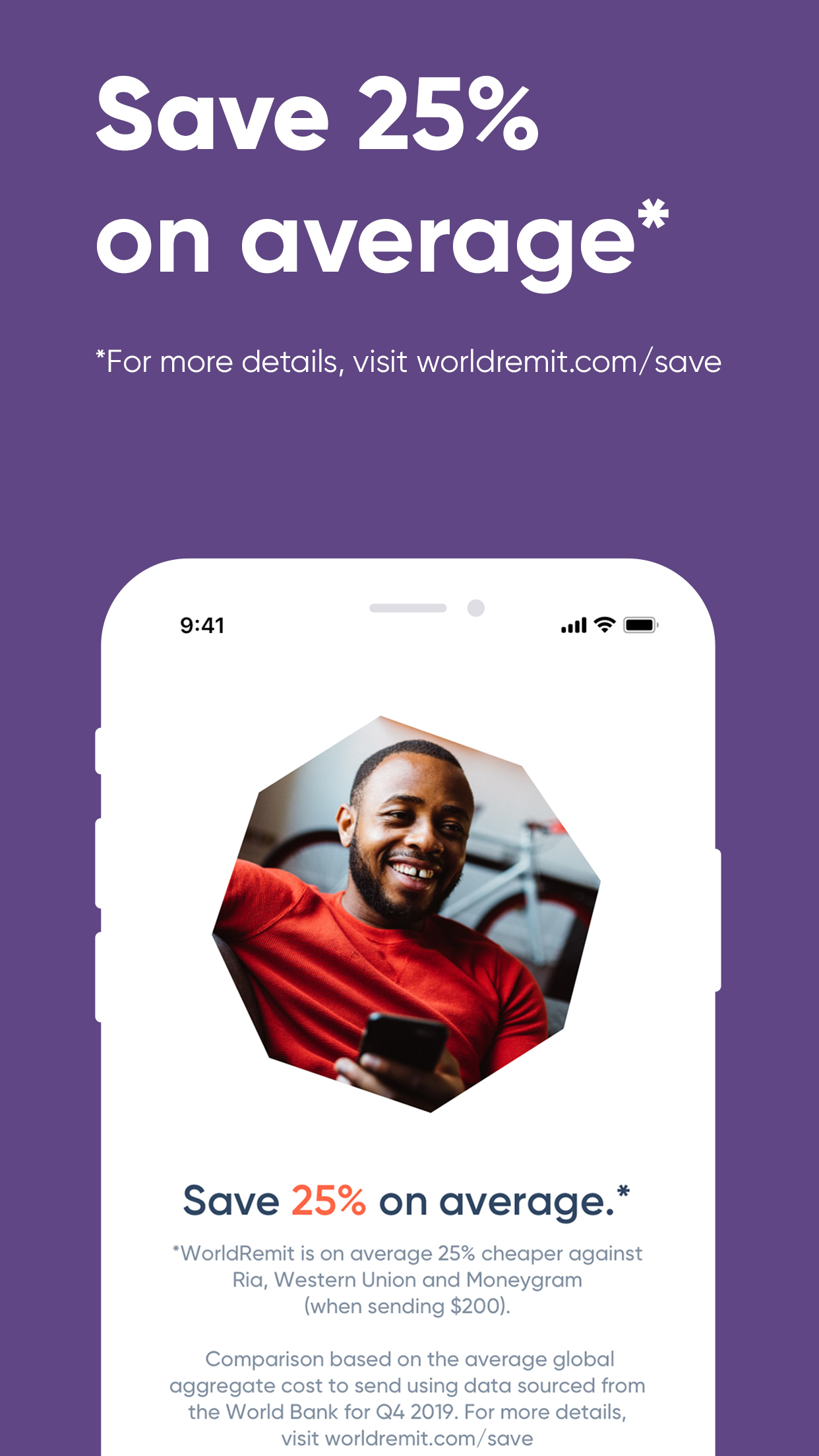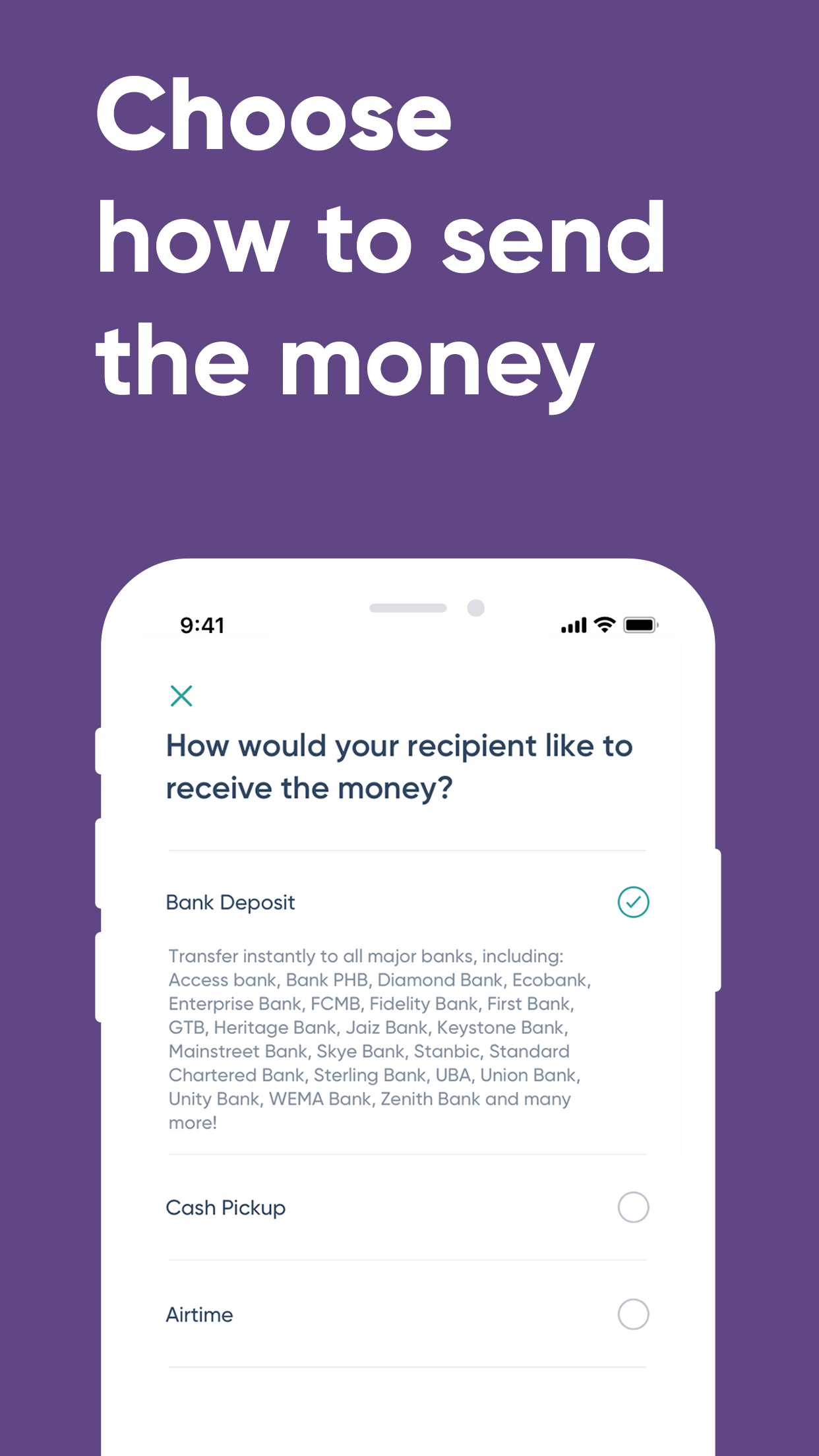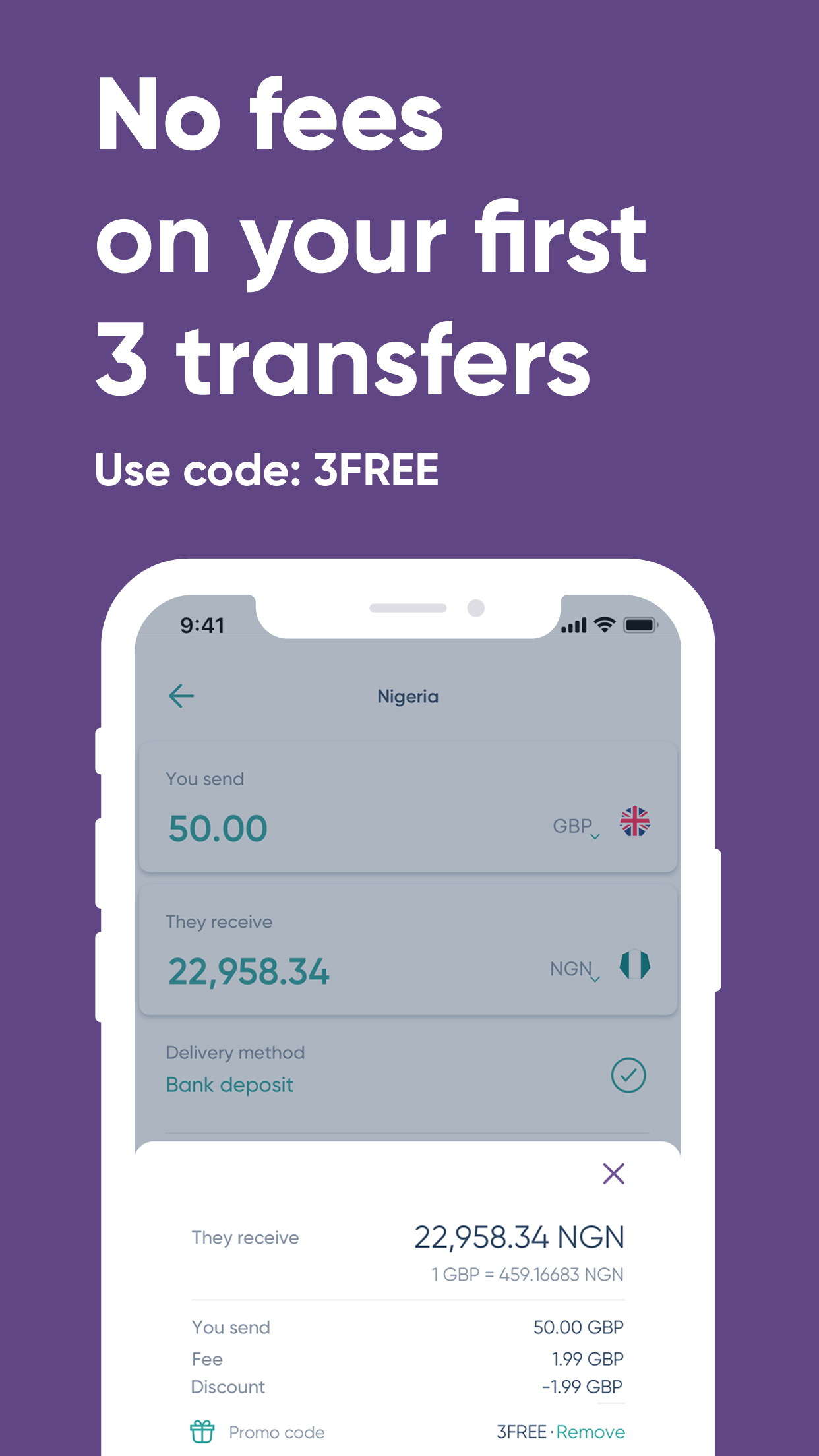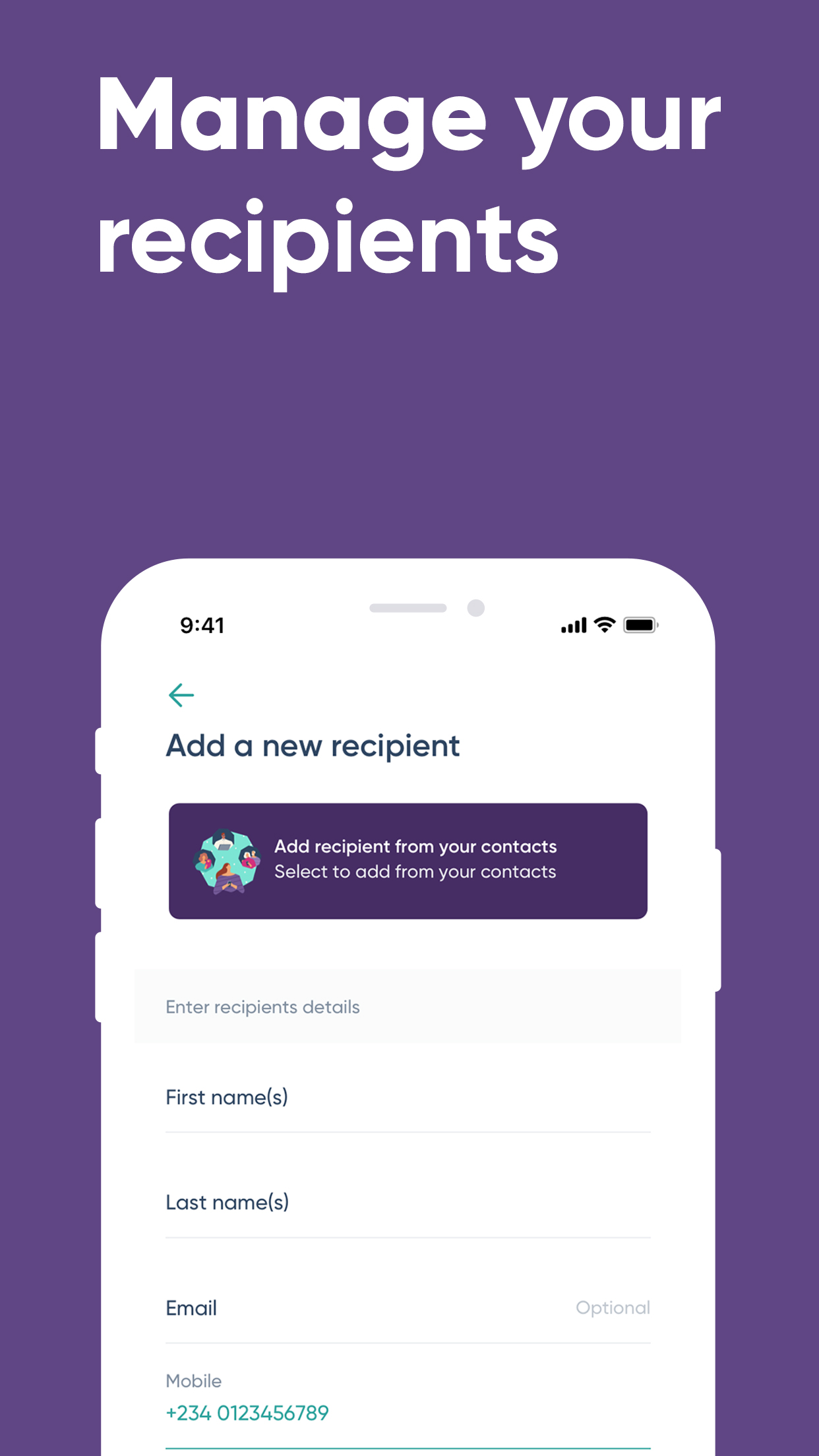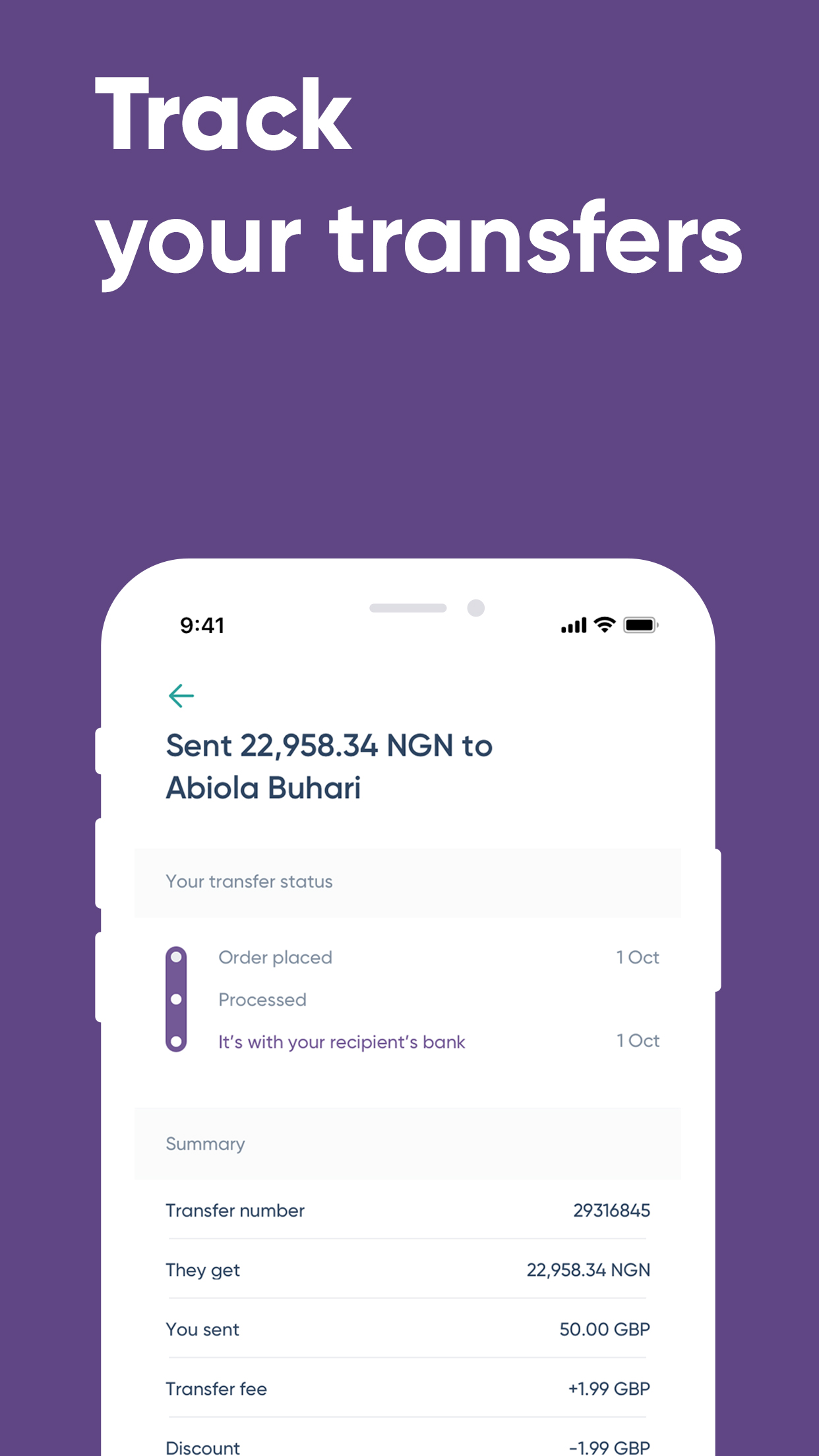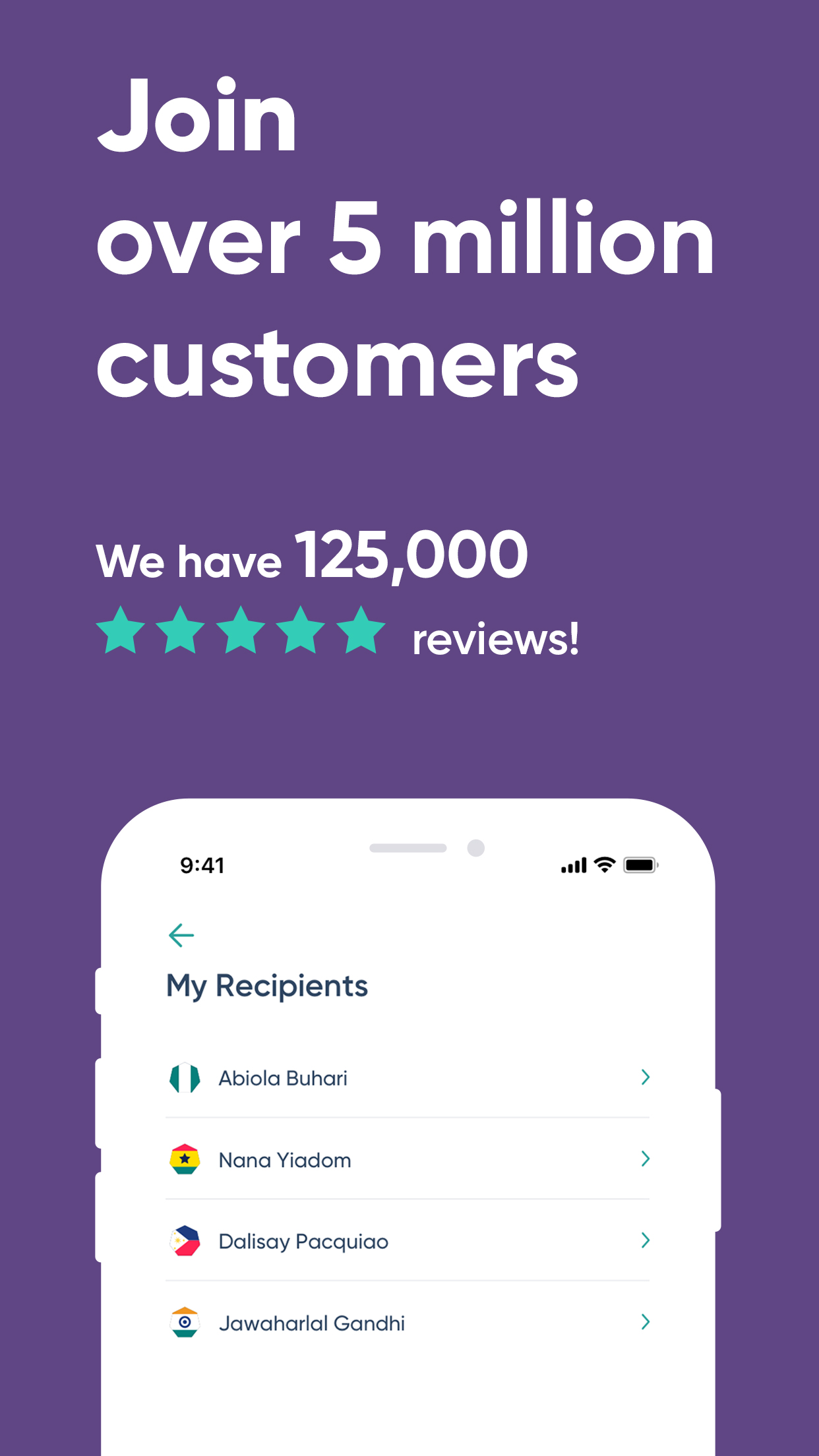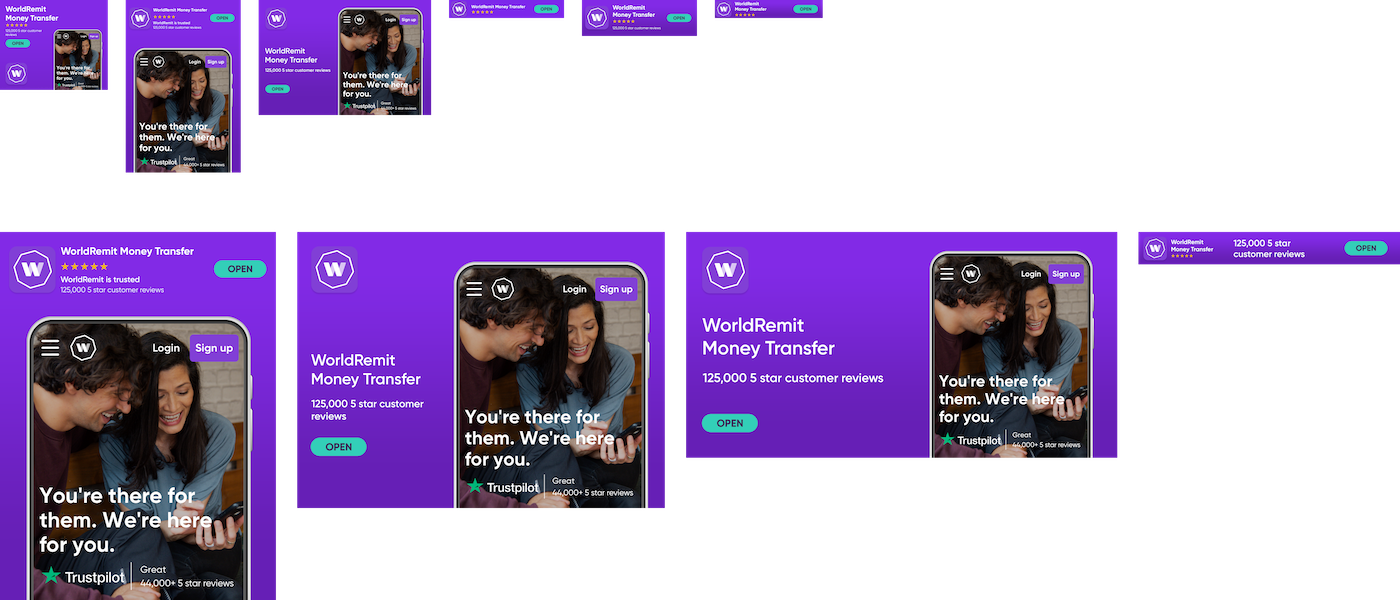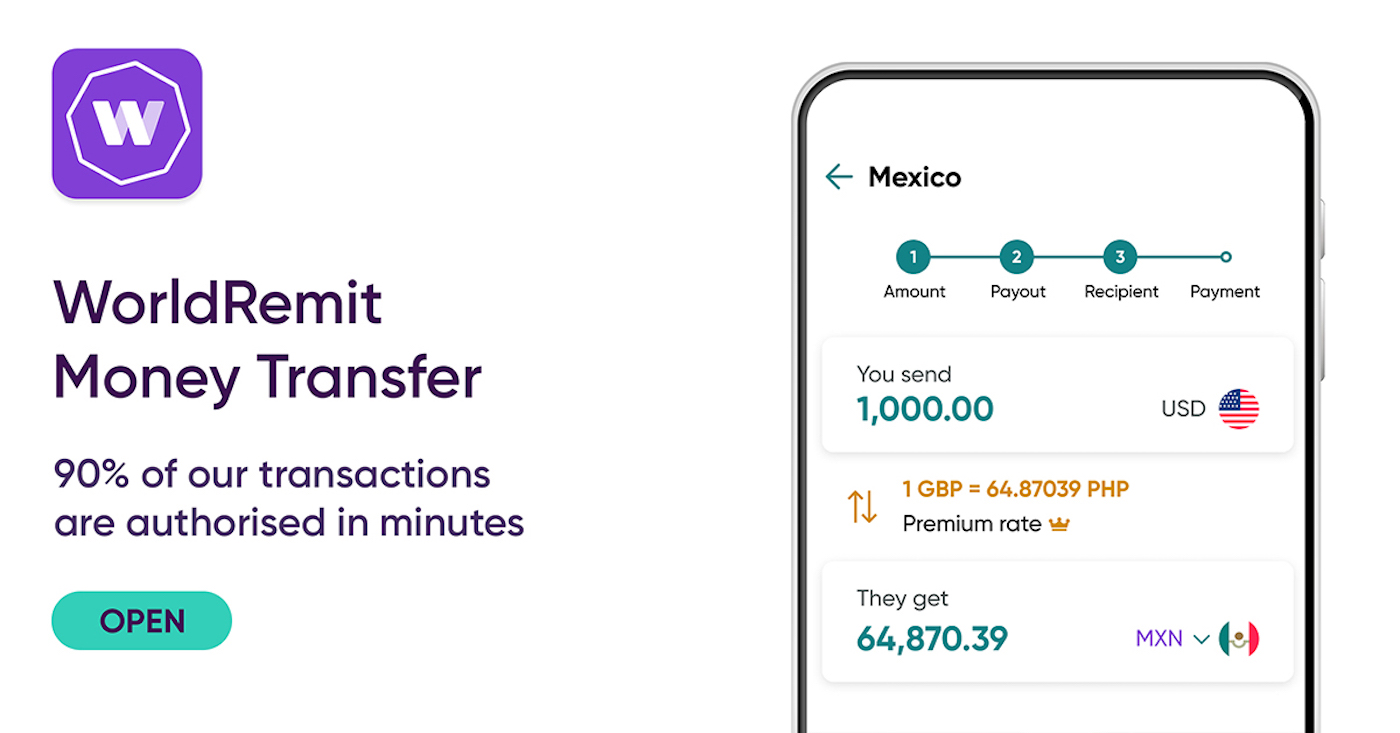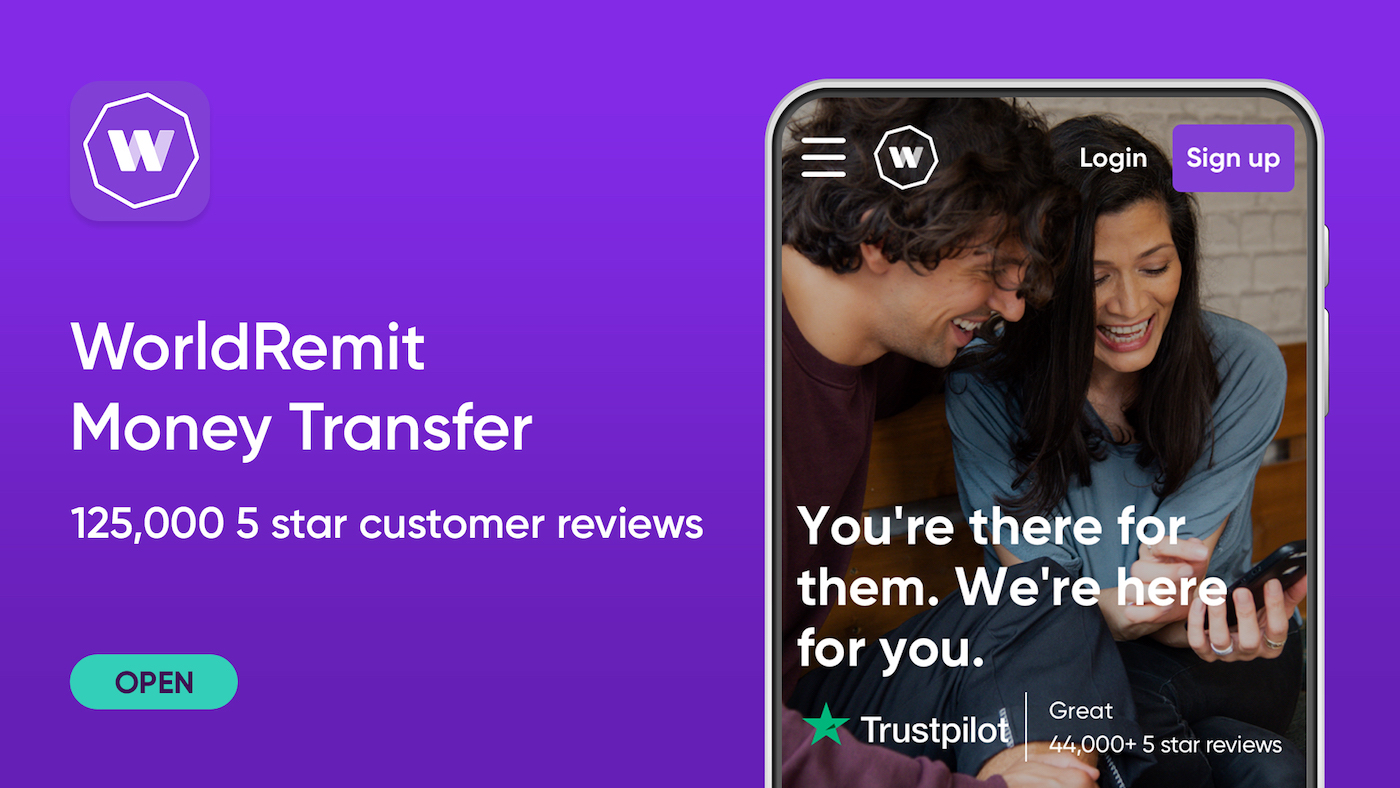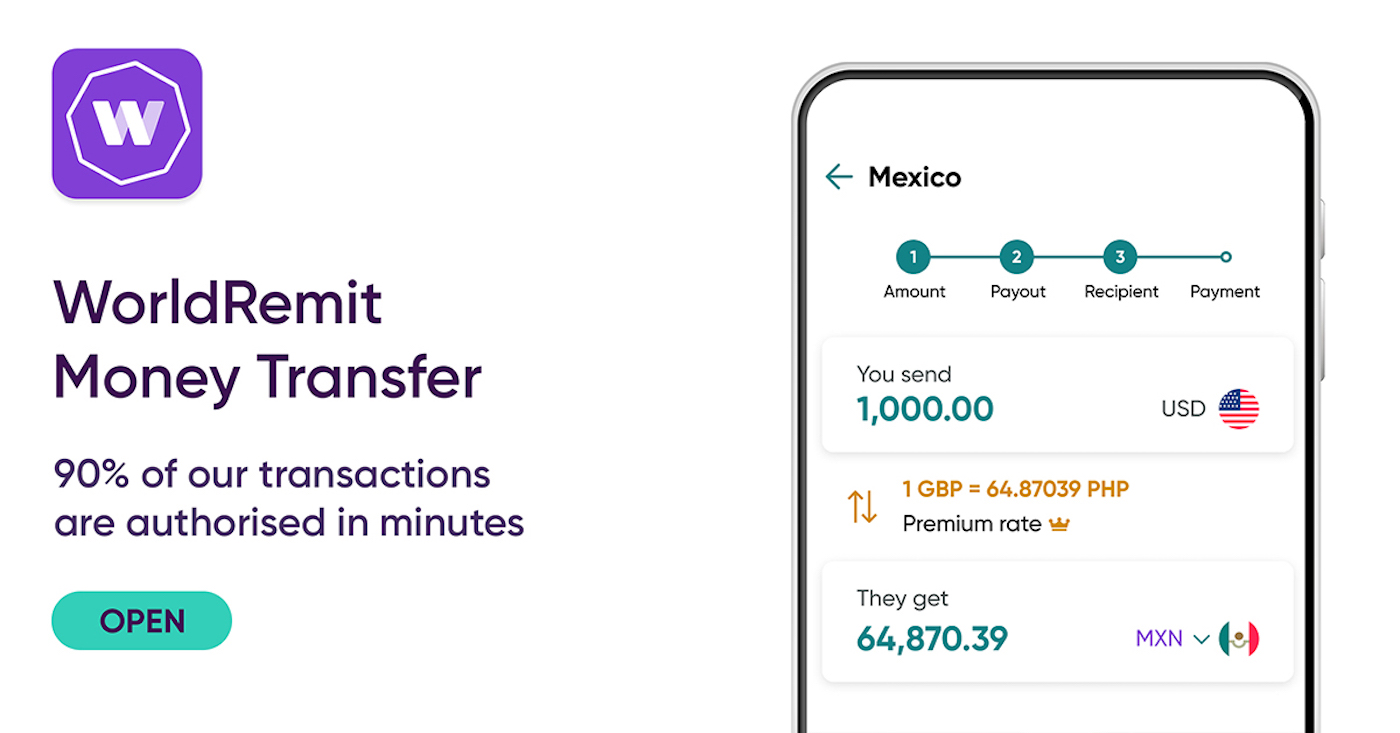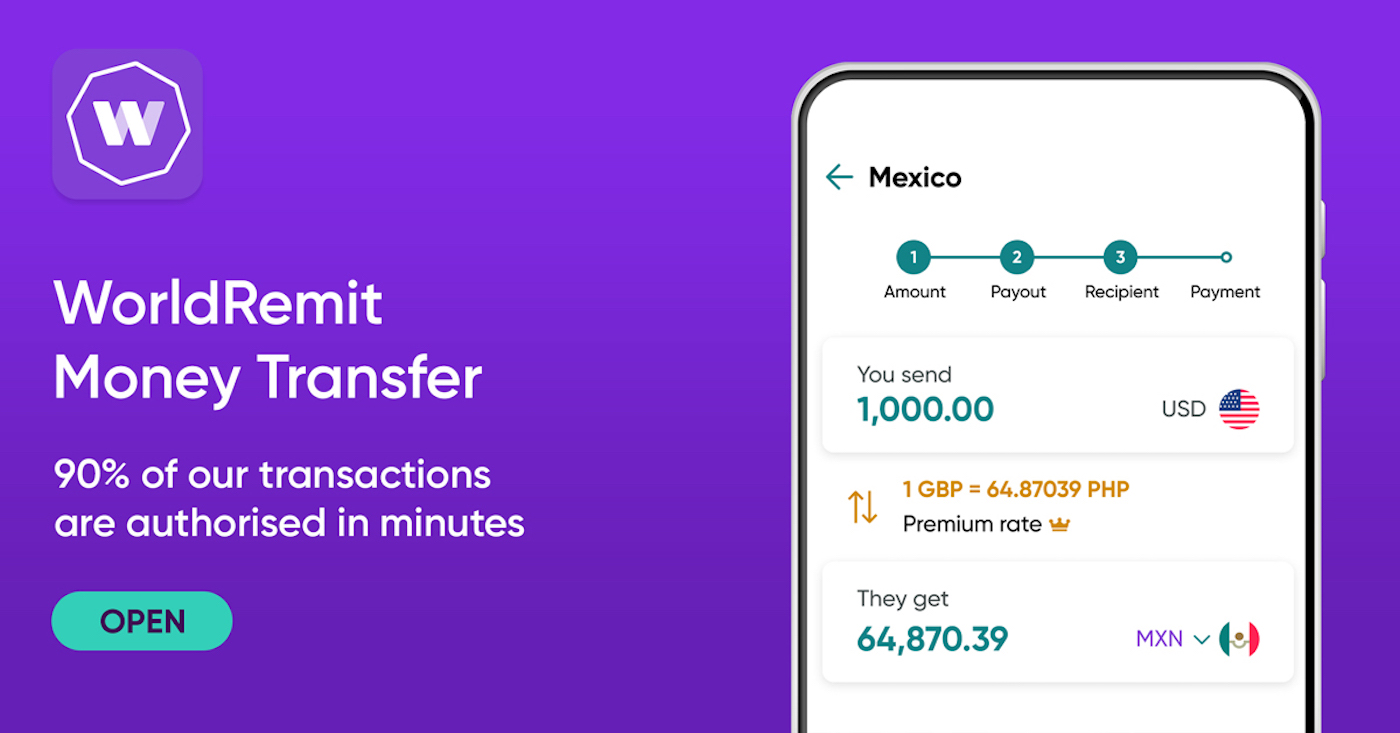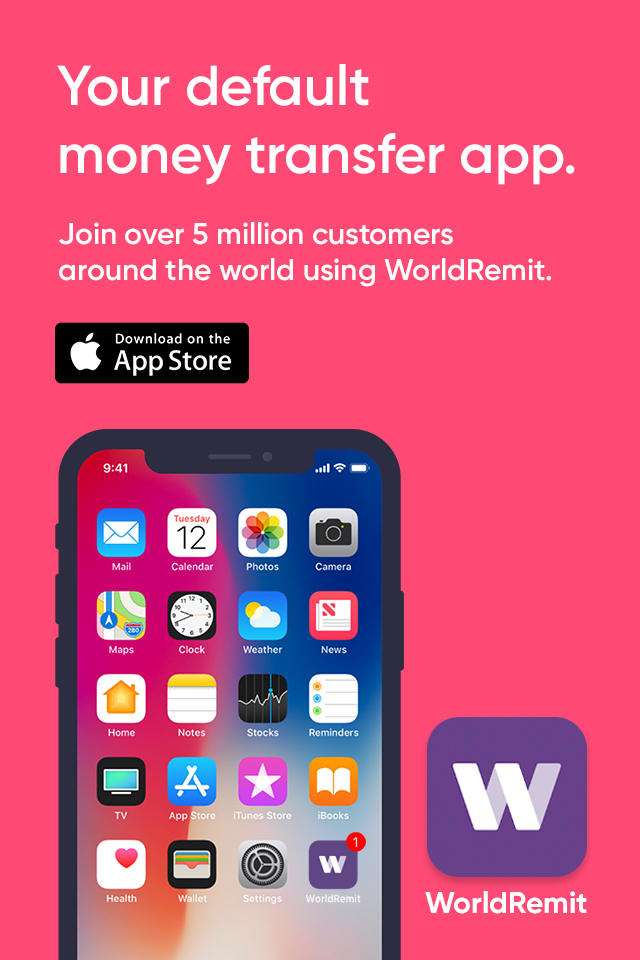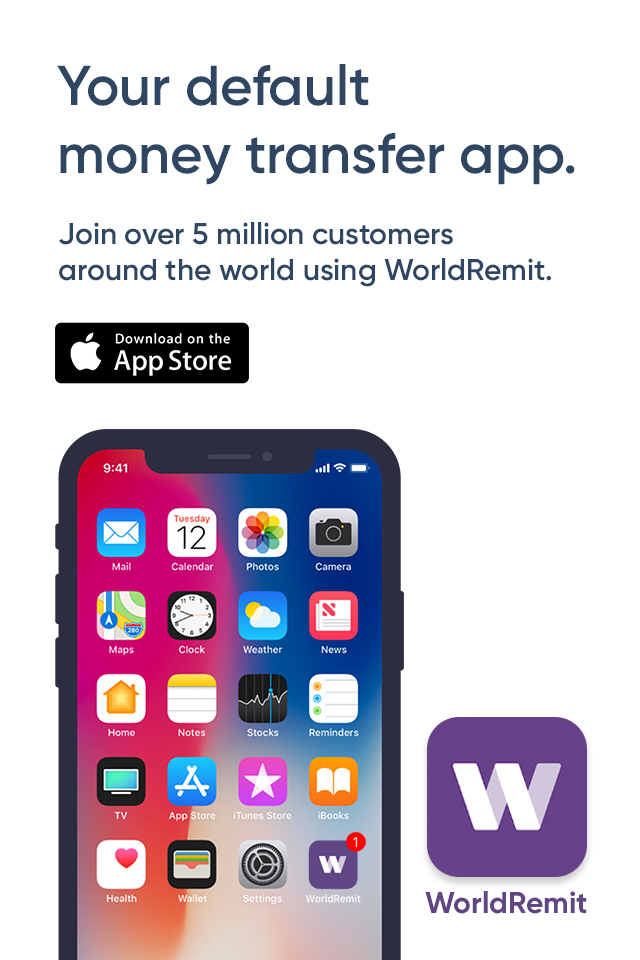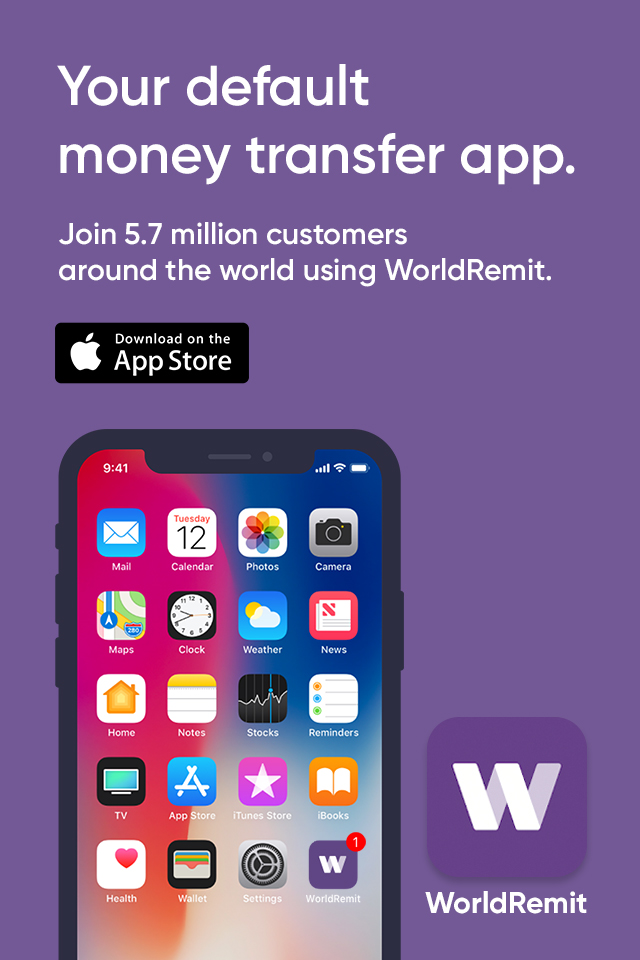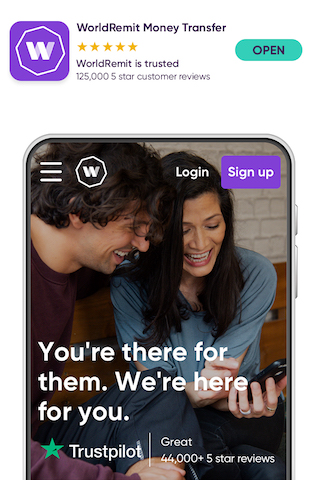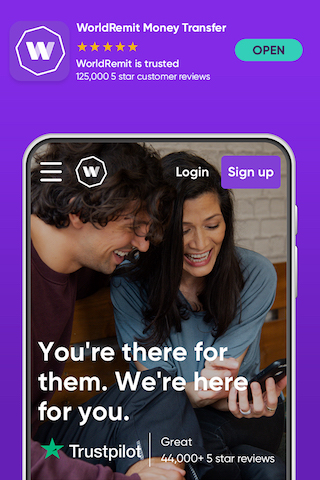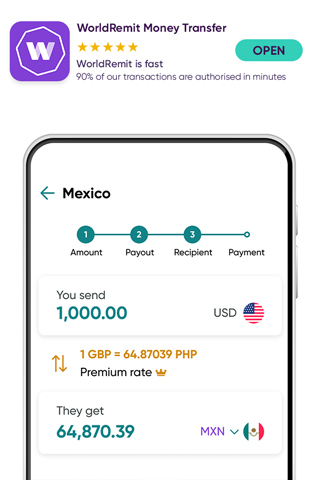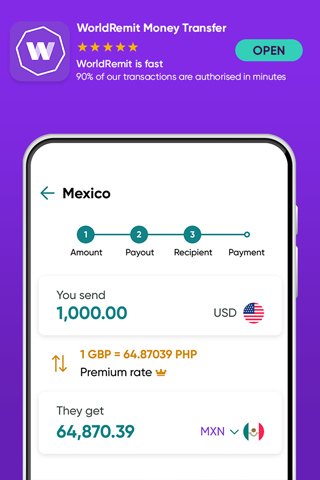 05. Key Learnings
The complexity of creative A/B testing and the possibility of human bias disappear with an automated approach to campaign management.
I am focusing more on strategy and business outcomes. I guess the time I save by not manually tweaking campaigns helps me to focus on more important things.
06. Info
WorldRemit is a fast and secure service that lets you transfer money online using a computer, smartphone, or our app.
Client: WorldRemit
Services: Digital Design, Marketing & Advertising
Visit Website